During a holiday trip in US, i had the opportunity to visit my friend Anatoly Miroshnichenko and his colleague Steve Danford at the University of North Carolina in Greensboro (UNCG).
Here is a small report of a two days and one night spent there.
Greensboro is an average town at extreme west of North Carolina. The landscape is essentially composed of large forest and small hills with numerous lakes and rivers. Everything is tree and grass. Only downtown emerge from this green ocean.
UNCG campus is a true american Campus. Sparse buildings among a large surface with a typical north carolina architecture, linked by straight roads, parkings, restaurants and offices.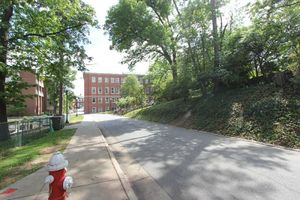 Anatoly Miroschnishenko in front of the Science Department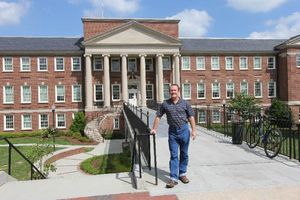 Astrophysics department, several publications and professors offices. Here we find classrooms and a planetarium. Some observations are organized from the top of the building with small instruments.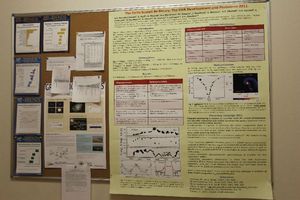 After an afternoon working on Audela we went to the university observatory calling Three College Observatory (TCO), located 45mm away.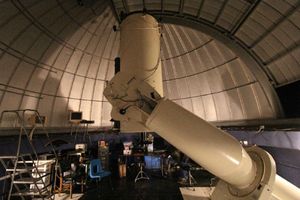 TCO main instrument is a 0,80m cassegrain reflector under a huge dome with photometry and spectroscopy abilities. Visual observation is often practised during public session. The guiding and pointing are very precise doesn't need much corrections.
We were lucky to have a clear sky during all the night setting up the eshell spectrophaph, running under Audela environement and gathering spectra of del sco, alp oph and a radial velocity standart star.
Eshell spectrograph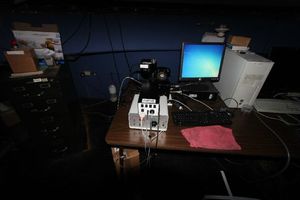 Steve setting up the eshell injection unit to prime focus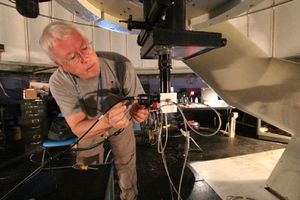 Anatoly looking at an echellogramm
Night session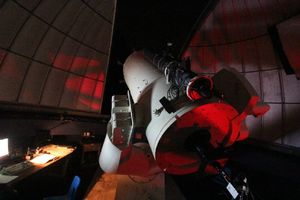 And me, enjoying, sky grabbed by earth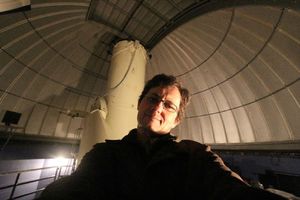 TCO is an efficiency instrument able to support any stellar observations, offering available data to UNCG astronomers and students. Future devellopements are a tip tilt system and a better ccd camera.
I will be be back there, sure.