Following the HeII4686 and the HeI5876 here is the study of the HeII5411 line of the wolf rayet star WR134.
I present a time serie of three spectra taken during a total exposure of 2H40, with 2X1h spectra and 1X40minutes for the last one.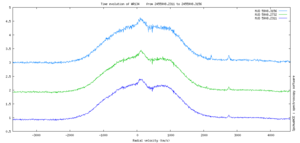 small active absorption features are readily visible at the top of the line and transient emission line appears at Vr 2200km/s.
SNR of a 3600s exposure is around 110 at 5471A, Resolving power is 12000, dispersion 0.1A. All spectra are corrected from instrumental response on a A type star (Vega), as usual, classical pre processing and data reduction with Audela.
Overall summ of the three spectra, 9600s total exposure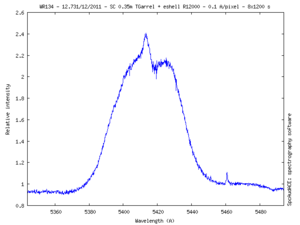 Zip files with Fit spectra 20111212_193424_WR134__HeII5411_TGarrel
I will join the campaign with my echelle setup only if these spectra present an interest to the Convento campaign. Submission to a professionnal advice is welcome.
Ref: Moffat 2000,
Update: Here is a comment from Thierry Morel, another Thierry, who is a PI in WR star from a long time; So it seems that the data are in the range on what to be expected from this campaign. I will join it.
"Hi (the other) Thierry,

Very nice spectra. Difficult to tell by eye whether there are indeed
significant variations between the three exposures at the top of the line.
Concerning the feature at 2200 km/s, to me it looks as an artifact. The
fact that the profile is highly asymmetric is likely to be due to CIRs.
The profile does not seem to evolve much during the ~2-3 hrs of
observations because this only corresponds to 0.04 in phase (period ~ 2.25
days). I am pretty sure that if you observe it once again within the next
few days then the profile will be substantially different. To me obtaining
such high-quality spectra over a long time span is exactly what this
campaign is about and so I would warmly encourage you to carry on!

Cheers,
Thierry "
ref "A 2.3 DAY PERIODIC VARIABILITY IN THE APPARENTLY SINGLE WOLF-RAYET STAR WR 134 :COLLAPSED COMPANION OR ROTATIONAL MODULATION"
THIERRY MOREL et All, 1999